GateWay is the
everything platform
for automating and streamlining
global expansion management.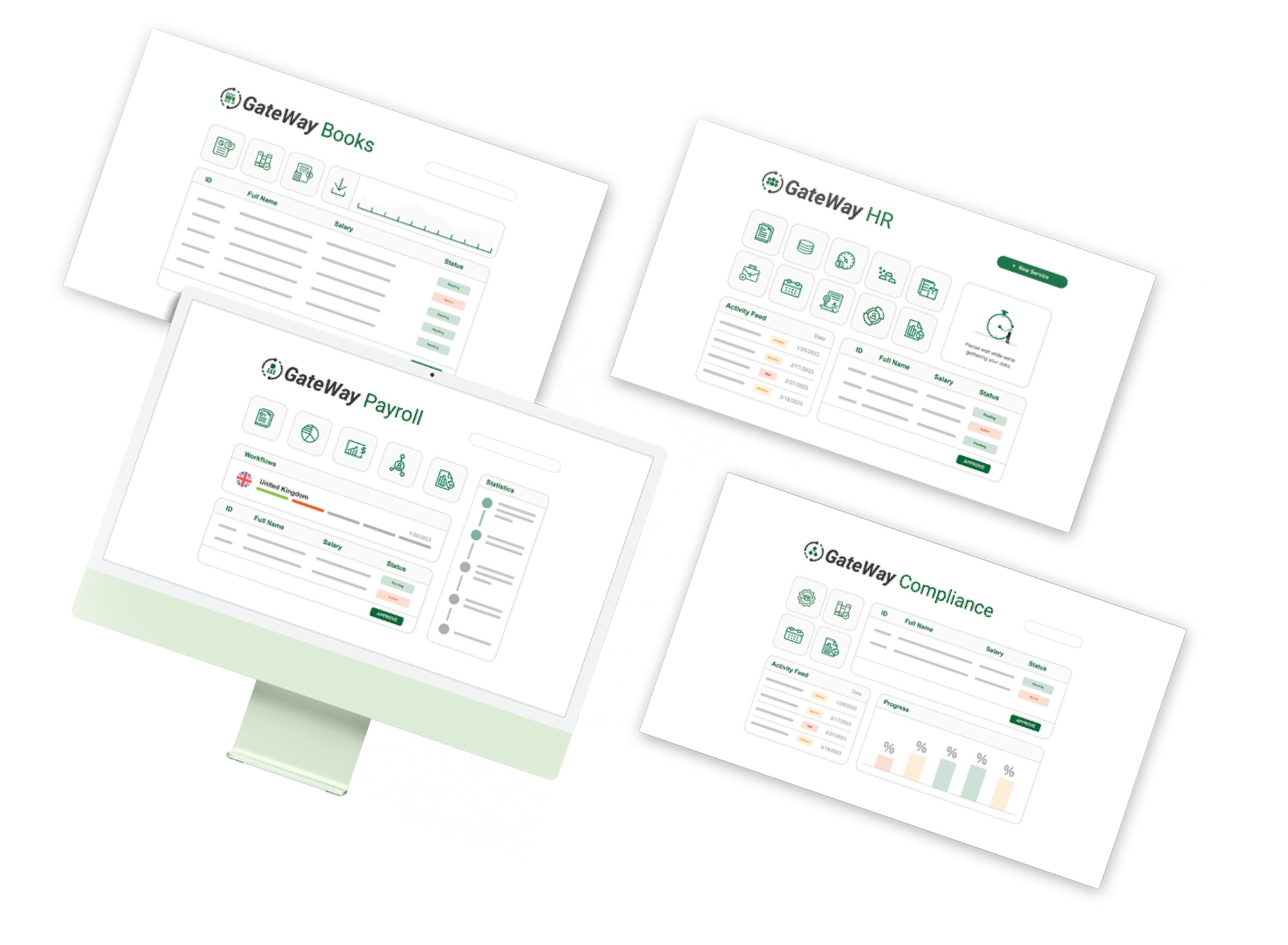 HSP Group provides a single platform to digitally unify all required applications for cross-border success.
GateWay Payroll
With GateWay Payroll, you can streamline your global payroll process, save time, and reduce the risk of errors and noncompliance with local regulations.

This application provides you with automatic calculation of salaries, taxes, and other deductions based on your employee's location and compensation package, making it easy for you to comply with local tax laws and labor regulations.

Moreover, our system offers secure storage of employee information and various reports, facilitating easy access and compliance with local regulations.
GateWay HR
GateWay  HR is an online HRIS that tracks and manages the roster of overseas employees for rapidly growing companies looking to streamline their global HR processes. The application allows you to centralize your employee data and easily manage employee records, including personal details, employment contracts, and tax documentation, irrespective of the employee's location.

With GateWay  HR, you can also automate various HR processes, such as onboarding, performance management, and leave management, consistently from country to country, saving time and increasing efficiency.

GateWay HR provides you with multi-currency support, facilitating easy payment of salaries, bonuses, and benefits to your overseas employees. This application is a must-have for companies looking to simplify their HR operations and effectively manage their global workforce.
GateWay Compliance
Adherence with local regulations and laws is a critical concern for international companies. This is where an online system for managing overseas legal entities plays a crucial role.

GateWay  Compliance offers an unparalleled capability for operating within local tax and regulatory requirements, providing a secure and efficient way to manage all of your legal entities while reducing legal and reputational risks. With its powerful features such as real-time data, workflow management, deadline visibility, multi-currency support, and secure data storage, GateWay  Compliance enables companies to operate efficiently while meeting the rigorous compliance requirements of the overseas entities and the local authorities they must comply with.

GateWay  Compliance's user-friendly interface and easy-to-use reporting tools allow companies to keep track of their pertinent local regulations, filing deadlines, workflow milestones, statutory information and all relevant documents, and to generate reports quickly and easily, ensuring with clarity that they remain in full compliance with the regulatory requirements of the federal, state and local authorities of the territories they operate in.
GateWay Books
GateWay  Books provides an online accounting system for controlling the financial operating results of overseas entities, an essential tool for multinational companies that need to effectively manage their global footprint. With this digital platform, you can easily track the results of your overseas entities, run budget to actual and other mission critical reports, ensure proper accounting and best practice recordkeeping, and facilitate the information requirements for consolidating your operating results at HQ, and facilitating the statutory accounting and tax requirements locally.

GateWay  Books offers a centralized, digital application that allows you to monitor financial transactions and performance, track expenses, and generate financial reports in real-time.

GateWay  Books plays a critical role in managing your overseas entities, and helps you maintain financial transparency and control, giving you the confidence to make informed decisions and grow your business globally.
Get started with GateWay today
Fast, Connected, Covered. Explore More Core Capabilities.
Simplicity at every turn
Consider GateWay your global expansion hub. It places your international footprint at your fingertips, allowing you to access every country, every employee, every deadline, every deliverable, every statement, and every requirement, in real time, in the language of your choice, in one place, no matter where you are.
Complete visibility
Stop working in silos. GateWay captures your entire global operation, from big-picture considerations to country-specific data. In essence, it replaces confusion with clarity.
Built-in compliance
Every cross-border business stands and falls with compliance so we made it a key feature of GateWay. When you leverage GateWay to manage your global footprint, you can rest assured your communications are secure and data protected, and your compliance requirements are clear, and met.
Expert-driven
GateWay is your direct link to your own dedicated Global Services Director. This go-to contact for all your global expansion needs knows how to navigate the myriad of entity and people considerations across your company's international footprint. Tap into GateWay to track progress in real time.
One platform for all of your global expansion needs
Lead your HR, Payroll, and Finance teams to success with an all-in-one global expansion management (GXM) system.